Sugar pearls, sprinkle, glitter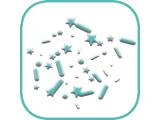 Confectionery is a huge industry. This may be the industrial production of cakes, desserts, baking in a variety of cafes and restaurants, as well as home cooking. Some options are patterned cakes, while others are a real work of art, which can not do without jewelry in them the maximum use sweet shine and much more.
How to decorate cakes?
The most popular to change the type of food used is spreading pastry. Qualitative product has several useful properties. Good sprinkling should represent not only beauty, but also a touch of flavor, a focus that is required to complete each perfect dish, we can say the final touch. This sprinkling sugar is so small that is suitable for jewelry work. Confectioners with the help of real pictures made on top of cakes and pies.
Sprinkling for cakes used more often, it can be found in almost all pastries. Depending on the recipe for these purposes can be crushed nuts, dough, cinnamon stick and a coconut. We also offer a chocolate posypku unusual shapes: vermicelli and shards of white, dark and milk chocolate
.
It is also very often used for decoration, and other forms. Popular with confectioners and children are sugar spheres. "Artists' love them for the opportunity to use a variety of colors and shapes, and the children of sweetness that is never superfluous in a good cake. However, this finding, which appeared relatively recently in sweets in such an amount that the crystals are confectionery. This is a special decoration with the original taste and extremely creative appearance. To prepare at home need to show due patience. Sugar crystals may be of any size or color looks perfect on cakes. Often it is manufactured using crystal three-dimensional part of the figure.
When making candy base is only part of the job. You can make a surprisingly delicious cake, but without decorations he did not make a splash. Confectionery many also meet on clothes. In our store you can find so many ornaments that will allow everyone to let their imagination at will.