Glitters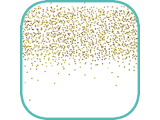 glitter - a decorative spangles of polyester film. Used by confectioners to decorate cakes, cupcakes and chocolate sweets. Bright, shimmering sequins transform the sweets make them really elegant. Cake coated such grit, poured magic luster. This is a wonderful solution to decorate your unique creations.
What are sequins?
For the decorations used food glitter:
holographic;
Neon;
rainbow;
monochrome.
Sprinkling represented in diameter from 0.1 to 4 mm.
Form glitter is very different: hexagon, square, round, in the form of slips, stars, hearts, firs - anything
. The palette also varied. The site contains several dozen colors sequins. In the online store Confiseur You can also find other high-quality confectionery tools.
Recommendations to use
Sprinkle glitter gloss on an element of your product. For better fixation lip attached edible glue. Glitter is not completely absorbed by the body. we recommend that you use treats as possible to remove most of the glitter off. Food gloss is not harmful and is not toxic, but should not be abused.
Glitters buy easily and quickly through our store confectionery equipment. The range includes more than 70 types of sequins of the highest quality from trusted manufacturers.
There are no products to list in this category.