Sugar crystals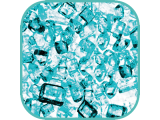 Décor sugar crystals
A variety of decorative elements for confectionery products greatly simplifies the task of confectioners. Any idea born in the head pastry chef, can be put into practice. With sugar sweet topping is made interesting, allowing transform even the most boring delicacy.

Sugar crystals are used to decorate baked goods, muffins, pies, cakes and other sweets. They give confections bright, impressive appearance.
In our online store crystals of sugar are presented in a variety of colors. Bright crystals colored food dyes, do not lose color and shine.
& nbsp;
Ideal as a decoration for baking decorations, cakes, muffins and other confectionery products.
Crumbly crystals coated confectionery lacquer and carnauba wax, to give shine and protection against adhesion.
The crystals of sugar can be bought easily and cost through our online store. The product is sold in the & nbsp; plastic jars dispenser, we can deliver it anywhere in Ukraine.
Multi-colored beads instantly transform your product by making it more festive and spectacular.
---
---