Confectionery ingredients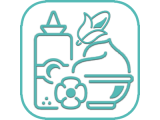 The abundance of different ingredients that are used in the confectionery arts, even help in the home to create a masterpiece desserts and pastries. For professionals, these ingredients are simply vital.
All the culinary components can be divided into two groups:
the ingredients that go into the main part of the confectionery specialties, such as dough for cakes or cookies;
ingredients that are used to decorate dishes or for a presentation, for example, almond flakes.
It often happens that one component can also be used for the base and for the decoration of confectionery. How to avoid mistakes when buying ingredients for baking and desserts? This helps you to our online store inventory and confectionery ingredients.
To create a confectionary masterpiece professional chefs and ordinary housewives resort to various components. We offer the largest selection of the materials and ingredients that will make your dish is elegant and unique.
Let us consider some of the ingredients:
one of the commonly used ingredients for desserts is powdered sugar buy that at an affordable price you can in our online store. As a substitute sometimes used isomalt;
virtually every pastry chef will offer menus in French airspace cookies whose main component is the almond flour. Buy it possible to have, choosing from a wide range of products;
an indispensable element of decoration for the cake or the cake will be the almond flakes. With them, the confectioner will perform artistic decoration in the form of floral and other motifs;
the basis for sweet baking is glucose syrup, guaranteeing the dough soft and used to create incomparable confectionery;
    
for the preparation of cold desserts, our online store offers your attention the frozen fruit puree, with different tastes and flavors.
All this and much more to create an appetizing and delicious pastries you can buy on our site.