Nuts and nut products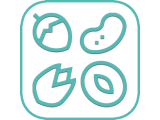 Ingredients for confectionery creations can be varied. Perhaps one of the most useful - it's nuts. In the modern kitchen, this product is widely used not only for its taste, but also useful properties. Nuts lower cholesterol, improve brain activity. If most of the ingredients that are used confectioners, can harm the figure, the nuts even promote weight loss!
Almond flour
The range of our online store are high-quality almond flour. It is crushed into a powder almonds. It is used in the preparation of many confectionary French cuisine. Biscuits "Dekuaz" and "Zhenuaz" impossible without this wonderful meal. It can be used in the diet, when every calorie counts. It is especially useful for children, as it can be sprinkled with light salads, add them sophistication and spice.
The creation of such popular sweets like "makarons" is only possible when you have a California almond flour. Almond flour to buy from the Spanish manufacturer on our website, you can at low prices and highest quality.
Keep the flour is necessary in a plastic bag or glass jar in a dry place. Before using better sift through a sieve to get rid of lumps.
Almond petals
Suitable for various decoration of confectionery, crunchy toppings, fillings for chocolates and handmade cakes. Thin slices cut from a fresh, fragrant almond. Often used for decorating cakes, muffins, cakes, Easter cakes.
Almond flakes may be roasted at 160 to give t refined taste and color. Store the product for 6 months from date of packaging in a dry and cool place.
The classic desserts "Napoleon" and "Honey pie" will get incredibly delicious and appealing by using almond petals. Almond flakes to buy from leading European companies on our website, you can at low prices and highest quality.
---
---