Freeze-dried fruit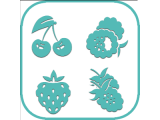 Freeze-dried fruit - it's incredibly cool. Freeze drying process does not require any preservatives and additives, and is 100% pure. Freeze-dried fruits can be eaten as a snack or added to porridge or muesli for breakfast, to add an extra fruity flavor to tea and other drinks. They also can be recovered & nbsp; re of the dry type, simply by adding water, they will restore their fortunes.
As we shall see, Freeze-dried foods are very healthy food because they quickly dried without the use of heat. It retains more nutrients than is normally achievable with other drying methods.
The method of freeze-drying uses useful characteristics of the water contained in the products. The product is cooled at very low temperatures and then dried, simply dehydrates, leaving a product with exceptionally useful substances. At the same fruits are easier to almost 10 times.
Freeze Dried fruits have high nutritional value.
The lyophilized & nbsp; fruit (so is also called the product) & nbsp; do not contain any additives: only 100% pure delicious fruit
! In the confectionery craftsmanship - lyophilized (freeze-dried) fruit, carrots, are widely used
! They can be added to the dough for makarons, thereby replacing flavors, and giving the product an incredible fruity taste, and & nbsp; also make them not only delicious, but also useful. Try to add quite a bit of fruit powder in the cream ganache, and you will be very pleasantly surprised, a completely new taste. Quite a few grams of fruit, you can add cream cake toppings, and at any time of year, you can treat your customers and relatives delicious berry or fruit masterpiece. Fruit powder can be used as gritting and decoration for cupcakes, makarons and desserts. pieces of fruit used for the manufacture of chocolate bars and candy fillings. Incredibly delicious muffins and cupcakes are obtained from the freeze-dried fruits and berries, the dough does not aggravating circumstances, such as if it were frozen fruits, fragrant and air.
Freeze-dried fruits are widely used in molecular cuisine, new and very fashionable trend in cooking.
Prepare the tiramisu, replacing cocoa, berry powder on and you will not be tiramisu, and Berrymisu!
Dried fruit in a special way, is used in many diets.
Buy freeze-dried fruit, right now on our website!
---
---
Showing 1 to 8 of 8 (1 Pages)