Transfers for chocolate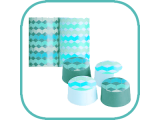 What made chocolate transfer?
If you still do not decide to buy this film for the manufacture of their desserts, it is quite in vain. It is made exclusively of natural ingredients, without addition of chemical substances and GMO.
The basis is a mixture of starch and cocoa butter, and the pattern is formed by using dyes. Transfer film is safe for health and has enormous potential in terms of decorating your pastry, but you can buy it for a reasonable price.
How can I use transfers for chocolate?
This material makes it possible to realize even the wildest fantasies confectioner. The simplest option - it is the decoration of the copyright of handmade chocolates with it. Suffice it to cover the surface of the finished, still warm, products - and they become an original, attractive look for treats
. Another popular solution - Chocolate frosting on cakes and desserts. It can be black or white. Often, it is applied on top of the various figures, but where it will be easier to put a transfer on chocolate. Besides, it looks pretty stylish, without unnecessary frills.
If you want a non-standard cake decorating can be applied to a picture on a chocolate bar, and then carefully break it into separate pieces. Or to make a figure of the chocolate, and then put on her pattern.
Very impressive it will look the gingerbread handmade inscribed with chocolate glaze with a pattern. Also chocolate figures with different patterns can often be seen on the cupcakes and muffins - they are stacked on top of cream-colored hat
. As you can see, it affects the abundance of opportunities. Moreover, that option is also a huge set of drawings. It can be formed as a discreet black and white and full color (for decorating white chocolate). The range of patterns is striking:
Hearts
Circles
Flowers
Zebra
Animals
Shelves
Geometric Shapes
New Year's, Easter symbols
Plant, wood and other textures
Food and beverages
Sponges
And this is not a complete list of transfers, which can be purchased on our website. With them you will be able to give free rein to his skill and imagination to create incredible masterpieces!
How to use shokotransfery?
The application of edible film - a fairly simple procedure, but it requires care and strict sequence of actions. And before transfers for chocolate to buy, it is worth to get acquainted with the technique of its application:
Put the sheet of foil on a flat surface. It can be a wooden board or tray.
Melt chocolate or icing to a temperature 32-32,5 degrees, mix gently and apply with a special blade a thin layer on the film.
Wait pour in for 30-60 minutes at room temperature - it will help crystallize the mass, thereby drawing acquire a stylish glossy look
.
Send the product in the refrigerator for 15 minutes.
Remove the sheet and gently remove the plastic wrap - on the surface of chocolate will be put drawing
.
As you can see, the procedure takes less than an hour, but the result is simply enchanting. So if you need a beautiful and expressive picture on the handmade chocolate, cake or other confection - should definitely buy a transfer
. The advantages of this are obvious decor. He is cheap, easy to apply and helps to give the original look of the product without any extra cost. That is why confectioners Ukraine actively use it in their work.
Where to buy transfers for chocolate?
Shop Online Confiseur offers a diverse range of food films for decorating chocolate. Here you can order designs for every taste and occasion. All materials are of exceptionally high quality - we sell shokotransfery made from natural ingredients. At the same time the transfer ribbon can be bought from us at competitive rates. On sale there are also other types of confectionery decor.
Drawing on chocolate with a special film
Transfer to chocolate - a food film on the surface of a printed image. They are transferred to the chocolate or chocolate coating, making a unique decor, decorating cakes, pastries, desserts, handmade chocolates and other confectionery products. They open up many opportunities in the confectionery arts.
The film composition
mixture
Krochmal
cocoa butter
food colors
All the ingredients for chocolate transfers harmless and natural. Working with chocolate should be in a room with t +18 C - 22 C. Keep the transfer film in a dry and dark place, away from direct sunlight
.
Dosing transfer Chocolate
On the surface of the film via the confectionery blade applied tempered chocolate or chocolate coating, heated by up to 32 C. Apply a thin layer must be.
Sheet accurately transferred onto a tray. In order not to spoil the edges gently poddevat their (preferably) a special thin metal spatula.
Then transfer sheet coated with a chocolate left to crystallize at 30-60min. Once placed in the freezer for another 15 minutes.
Chocolate removed from the refrigerator and gently remove the film. It is a beautiful picture. Image is transferred onto the surface of the chocolate in a mirror image.
Version of cake decorating
The cake covered with chocolate icing is elegantly decorated with such a Painted chocolate. Break it into pieces about the same size (depending on your creative desires). Using melted chocolate, glue the pieces to the sides of the cake. You can make sure that they go beyond the edges of sharp corners. Get a very interesting decor.
On the site Confiseur large assortment of black and white and colored films. For example: Sponge, zebra, lynx, squares, stripes, roses, daisies, creative testicles, etc. Buy transfer for chocolate where you can at the lowest and affordable prices.. In our online shop you will find the most creative and original choice of transfer sheets from trusted manufacturers.
---
---