Confectionery Coating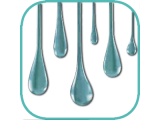 Any worthy pastries chocolate
All chefs know that icing confectionery is suitable not only for different cakes, but also can be a great addition to cookies, muffins, cakes, éclairs. In this section you can buy it also includes such species as:
• White
• Chocolate-strawberry yogurt
• Lactic
• Black
• Some types of pasta with different flavors
Glaze for the cake can be bought in many places, but we recommend to address to us. Just type in the search box «Confiseur online store chocolate glaze," and follow the link to our profile. We guarantee our product quality, harmlessness and its compliance with manufacturing standards.
Using white icing for the cake
For lovers of the classics you can buy the chocolate glaze over the familiar taste. This may be a chocolate coating on a cake or milk product with a taste of bitter dark chocolate.
The glaze of white chocolate is also interesting for its taste qualities and can blend in perfectly as decoration, combined with dark shades. White cake glaze baking and other attractive appearance and provides an excellent coating for further decoration. This color gives a culinary masterpiece noble appearance, making it the main highlight of any event.
Color glaze for the cake is a real gift for fans of the experiments. With it you can create on canvas confectionery brightest and most memorable paintings, attention and leaving pleasant memories. We suggest you buy the glaze, not only for the taste sensation, but also to use this material as a decoration. It will help to realize your any creative imagination!
Please order the necessary ingredients for your baking on our site!
Confectionery - this is one of the most popular products used by man. It is difficult to imagine a pleasant tea party without a piece of delicious cake or other baked goods, especially if it is made hands of a loved one. These culinary delights not only help to perfectly relax after a hard day and forget about the hustle and bustle, but also quickly elevate mood and restore lost power.
Who does not love chocolate? Such people are very, very few, and perhaps not at all. Chocolate glaze today is very popular and is used in the decoration of confectionery products. No one knows who was its author. But we all have to thank him for this wonderful invention.
Sweet delicacies weight gives the original look and feel of a new savory taste. Since it is convenient to operate, it is possible to give fantasy free. On our site contains milk and white chocolate coating of the highest quality.
Applications Crust
With the help of this amazing product is decorated with a variety of sweets: cookies, candy, cakes, cookies. Chocolate icing for the cake is ideal. confectioners often coated completely or treat mass using special syringes and bags confectionery coated pattern. Mesh pattern is usually applied first to the plastic wrap. After hardening, it is placed on the product.
It is also used to create ganache, mousse, or a variety of fillings, enrobing chocolates or cookies. The product can act as a material to create different sweet figures, for example, chocolate coins.
The composition of breast chocolate glaze:
Milk
Cocoa powder
Cocoa Butter
Powdered sugar
(Additional ingredients white chocolate no cocoa powder)
It is made only from natural products, it does not require tempering. If you do not know than to quickly and beautifully decorate their creations, a beautiful way - chocolate icing buy it in our online store Confiseur easily at the lowest prices. You can purchase the product in packages of 1 kg (ROM). We will also be able to deliver any of the range of confectionery equipment in any convenient for you place in Ukraine.
---
---