Edible printing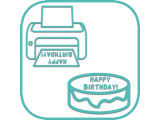 The edible printing, fulfillment of individual - an interesting option for decorating a cake made in the pastry shop or a pastry chef in a specially-equipped kitchen, as well as at home. To print edible wafer sheets need or sugar paper, special printer and multi-colored cartridges to it. Print can be anything you wish: personal photos, their own drawings, paintings or works of art
.
Wafer paper cakes
To expand your list of options for decorating cakes, you will need to master the techniques of working with wafer paper. With wafer paper, you can quickly create an amazing variety of sophisticated decorations for the cake. Make-plate paper flowers as Ranunculus, peony, open rose. Create exciting patterns and intricate designs in a simple manner. You can even use a wafer paper decoupage technique and make a creative, one of a kind cake.
SUGAR paper cakes
A quick and easy way to add colorful details to cakes and desserts, even if you have never before been involved in the design of cakes - is the use of edible, flexible sugar paper. Cut and put decorations from sugar paper can be a matter of minutes. Sugar paper has a light, sweet flavor that goes well with butter cream or fondant.
Waffle pictures on the cake
Waffle image for cakes can be done independently. It is not difficult, but will need special tools and ingredients: Wafer paper, special printer, colored ink for the printer - printing on wafer paper. With all this, you will be able to print any image on your taste. But if there is no mentioned accessories, and wafer image needs a "here and now" - you can just buy a wafer image, ready-made, in our shop
.
In order to maximize wafer image organically fit into a ready-made confection, it is specifically devoid of taste and smell: after the establishment of the image on the wafer cakes are soaked cream and acquire the same smell and taste. To the product with the picture seemed complete, after the installation of paper with the image, it is best to cover the transparent or nearly transparent material. This can be done via a confectionery gel, a thick syrup, jam and even brighter light honey. However, the first option is preferred - then the cake will look neater
.
Sugar paper buy, as well as wafer paper, and wafer image for a cake you can buy in our online store - we deliver goods to any city in Ukraine
.