Waffle and sugar paper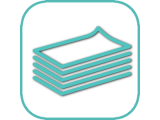 Wafer paper cakes
The most popular and expensive kind. Its ingredients are water, starch, vegetable oil. The taste of such a material is neutral. The color of this white paper, it is quite clear. The structure is characterized by its porosity. The thickness of the wafer sheet is about 4-7 mm.
There are two versions of this paper:
a soft, thin, both more transparent and flexible, easy to cut from it;
more dense at the same time fragile and less transparent.
Why do we have waffle paper for cakes can be bought cheaper than in other online stores? Because we have only a quality product from reliable ischtonikkov. The edible sheet to buy quickly, but it can be installed with or without a confectionery gel. Application of the gel makes it elastic, gelled, gives flavor and shine. It has been successfully used to decorate the top and sides of cake.
Sugar Paper
Diabetes sheet superior in quality wafer. Printing images on it has an excellent color transfer, so that they turn out amazingly bright. On the sides of the cake difficult to apply it, but with sufficient accuracy and clarity of movement possible. If you need a very bright and colorful image, then use the sugar leaf for printing your masterpieces for cakes. This sheet is rarely used, but nevertheless, it should be ordered. If you dare, you buy a sugar sheet should be through the online shop, so will be cheaper with inexpensive delivery. You need to be sure to buy an edible sheet that helps you to decorate and transform your culinary creations.
Such edible paper has a thickness somewhat smaller and denser than the wafer. And yet it is snow-white and opaque, sweet flavor with vanilla flavor. The composition of her as an entirely different: water, sugar, glucose syrup, palm oil, stabilizers, and other cellulose components
. Products sugar decorated sheet should be protected from moisture. They should only be in areas of dry, dark. In turn, such a thing can be identified that the wafer sheet is less demanding and easier to use. In our category includes products, you can easily make an order, which means that the sugar sheet cakes to buy and instantly print your edible decorating and will please the eye.
Buy edible paper
We offer to buy profitable wafer paper and sugar from Kopycake and Modecor manufacturers. This high-quality products, well-known to most confectioners. Let your cakes are always great!
---
---
Showing 1 to 7 of 7 (1 Pages)