Printers, cartridges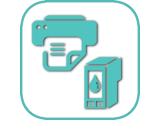 Printers and cartridges for printing edible
What would like to see a photo or picture can be easily transferred to the surface of birthday cake ... Wait! You can!
The art of photography is easily implemented in the confectionery business. For this purpose there is a food printer that is easy to buy on the Internet. If
you their business for the production of confectionery products, such printer sales increase by several times! Printing on sugar paper has become particularly popular in recent years. The combination of sweet art and technology allows for any, even the impossible, a fantasy.
The professional equipment, opens enormous creative possibilities, allowing you to receive exclusive confectionery. All that is needed is:
Food Printer
In our online store you will find a versatile printer that prints on edible paper (wafer or sugar) and chocolate.
We offer Decojet A4 - food format printer A4, certified for the food industry. It allows you to print high-resolution views of any images, photographs and logos. It works with 4 cartridges and prints on the wafer sheets shokotransferah sugar and A4 paper size. Works with operating systems like Windows XP / Vista / 7/8 - Buy food printer
.
Cartridges
Food cartridges are sold separately. Vivid pictures will turn out rich, natural and very tasty! Food colors are absolutely harmless. They last long, so you can do without the fear that the cartridge is empty.
Warning! Conventional printers are not designed for printing edible. Use only high-quality equipment and materials, then your work will be appreciated.
Cartridges for food printer is easy to buy in our online store. Here you will find only the best prices on modern confectionery equipment.
There are no products to list in this category.