Marzipan, almond paste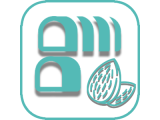 The exquisite delicacy
Surprisingly flavorful, melting in the mouth bar, coated with a layer of chocolate or fancy edible figurines of various colors. This marzipan. Gentle treat prepared from almond paste with the addition of powdered sugar. The product is not only delicious, but also useful. Potassium and magnesium are necessary for the heart, muscles and blood vessels. Vitamin E is a powerful antioxidant. Contained in the product and unsaturated fatty acids. However, to get involved in it still should not be. A very high percentage of sugar content.
A rich variety of products
Produce marzipan shop help & nbsp; inventory confectionery and food dyes. But you can buy ready-made marzipan sweets, cakes and figurines, order a gift for your loved one or child. Marzipan mass is easily formed into finished products, so the production of sweets do not use any additives gluing. As icing popular:
          
            

natural chocolate,

          
          
            

sugar powder;

          
          
            

lemon syrup;

          
          
            

orange juice with zest;

          
          
            

infusion of coffee.

          
        
If you wish, you can make marzipan rolls with raisins, dried fruit or citron. Cooked in a sugar syrup juicy fruit marzipan give different flavors.
marzipan mass as decor
marzipan decorate ready-made pastry, turning them into a masterpiece not only culinary but also true of art. With the help of special tools and confectionery colorful, but it is harmless dye masters are able to create a fairy tale. In the hands of the cooks alive small figures of birds and animals, grow strange flowers, trees and castles. Marzipan cake can be used as the original top layer. This dish looks particularly impressively on any table. In addition, using marzipan canvas can transform itself into a checkerboard cake, hat or tower. Skillfully pulled and properly squared all edges of the dough, you can recreate the strawberry field.
A useful product of almond
One of the varieties of dessert of almond is almond paste. She was also prepared by grinding the nuts, but adding the egg white or honey and a little salt. The paste can be used for making cakes, cookies, muffins. Its composition is much less sugar than in marzipan. It has a number of useful properties:
      
        

contains large amounts of protein and fiber;

      
      
        

rich content of fatty acids and vitamin E;

      
      
        

controls blood pressure;

      
      
        

reduces the level of harmful cholesterol.

      
    
So it's not only delicious, but also therapeutic dish. A paste of raw almonds can be a valuable and functional products in your kitchen.
---
---
Showing 1 to 1 of 1 (1 Pages)