Icing, edible lace, lacquer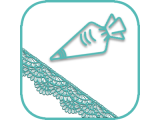 Cake Decorating icing process has now become a favorite home and professional confectionery creativity.
Advantages of new blends
Housewives and confectioners have long used the icing to the cake, prepared independently of its protein-based and powdered sugar. From a mixture of such composition created figurines for decorating cakes and pastries, such as flowers or butterfly. However, home-made weight pretty inconvenient: for a long time to dry, require very delicate handling, the product obtained fragile, friable
.
As a professional powder icing for these difficulties are eliminated:
to obtain final mixture sufficiently mix the powder with a small amount of boiling water and whip within 5 10 minutes;
the product dries in half an hour;
the mixture remains flexible in bending and twisting does not break;
a lot of pleasant taste;
at the remarkable properties of confectionery powder does not contain dangerous ingredients for the health.
The mixture for flexible icing different manufacturers - from American to Italian Sugarveil Magic Decor
.
Decorating cakes icing
Gorgeous delicate icing on the cake looks extraordinarily luxurious. That it is used in the preparation of the main dessert at the royal wedding. For sale is a set of texture mats for icing, allowing to create a true masterpiece of lace.
Even without icing pad Sugarveil easy to use for making luxury ornaments. The mass is extruded from the cornet to heavy polyethylene film, following the pattern planted under it.
Ready-made decorative elements are applied immediately before use in the cold dry culinary product or a frozen protein cream, icing, chocolate. Moist environment destroys decoration, icing is not so suitable for other creams.
icing using varnish and glue
Invented more than 10 jewelry techniques icing cakes. The mixture can be painted for decoration dry or liquid food dyes, varnish.
Adding to your arsenal of food varnish, confectioner can significantly diversify and to "revive" the finished product.
The varnish used in the following cases:
brightening eyes, hair, clothes detail pastry figures of mastic;
coating of fruits and flowers to simulate a natural gloss;
the production of paints for painting;
Protection of the finished decorations from moisture and opacity.
Confectionery Adhesive - another indispensable tool in creating a fantasy decor. It is designed to connect the individual elements, sugar flowers, figures of mastic and repair accidentally damaged parts.
Masters, really wishing to create an outstanding work of culinary art presented assortment of colors, glue, varnish, icing mixes will translate the most creative imagination.
---
---
Showing 1 to 10 of 10 (1 Pages)