Food colors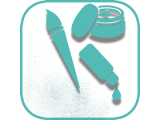 If you are looking for, where you can buy food colors for mastic, then came to the address!
What is food coloring
Food colors for mastic - a safe product that allows you to paint and create the cake is not only delicious, but also beautiful confection that will attract the attention of visitors of any festive event .
Food colors are special mastic paints applied in the design of cakes and other confectionery products. Paints for mastics used not only as a component in the manufacture of the material for confectionery, but also to be applied to its surface. Paints and compositions are perfectly compatible, so color is uniform and saturated.
But mastic - not the only material that uses this food coloring. Also it finds application in the production of dough, creams and other elements of cakes, pastries, etc.
Dyes for mastic confectioner provide the opportunity to put confection flight of his imagination to create original works of art. These materials do not pose a threat to the human body and is absolutely safe to use.
What we offer
In our online shop you will find a variety of different food colorings. Mastic made using these additives, will make any confection bright.
The range includes different types of materials for the manufacture of confectionery products - dry, liquid, gel food coloring. Buy that, with the help of our website, quickly and easily.
So, we decided to dye for mastic buy from us? This is the right decision! You can be sure you will get high-quality and healthy food at a good price. From now on you will no longer ask questions what food dyes, where to buy, what is better, etc. Our proposed products, customer service and price will make you a regular customer.