Airbrush colors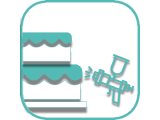 Confectionery supplies today you can find the most diverse. Special inks used in the manufacture of sweets, also are different. They allow you to create from the confectionery true work of art, amazing riot of colors and motifs. At our site you will find everything for the confectioner and his fantastic pans.
Imagine the incredible multi-colored figures from pastillage, caramel or chocolate, decorating your cake. He plays with paints, filling the room with a sense of celebration. usually they say in such cases, that "such beauty even have pity." But the taste of the product will be even more delicious, because the paint does not contain any harmful impurities and does not affect the taste of sweets.
What is the airbrush?
Any professional confectioner knows that airbrush significantly expands the possibilities of decoration of cakes. The spray device (air brush) causes a thin layer of paint to the article. With it you can create different patterns or color transitions. But the result will be much better if you use high-quality paint for airbrushing. After use, dry pigments, insoluble crystals may clog the outlet, so the liquid is better and more reliable.
Confectionery dye can be bought cheaply through our store confectionery equipment. On our site you will find a wide range of liquid, gel and dry dyes at competitive prices. We will deliver the goods to any place in Ukraine and even abroad.
---
---
Showing 1 to 12 of 12 (1 Pages)