Gel/paste colors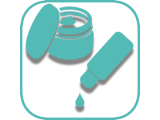 If you buy a poor-quality food colors, culinary masterpiece can be spoiled visually, and can also cause allergic reactions of the human body, so they must comply with the essential requirements, namely:
Secure the composition - an ingredient must not be injurious to health when used in food products;
Resistant, saturated color - under the influence of temperature, the product must not change its original shade;
Uniformity - solution of the product should not skomkivatsya uniformly lying across the surface of food products
.
The holiday just do. Our online store offers a wide range of this line of products at an affordable price, so if you decide to add a touch of exclusivity to your confectionery or other culinary masterpieces, it is worth to buy a gel food coloring.
How to choose a gel food coloring
Why visit us? Acquainted with the possibilities of food dye, it is time to think about where to buy the ingredients. Our online store offers to buy food dyes in Ukraine most democratic value of different colors and capacity, which can be ordered in our online catalog. Food coloring cream purchase is necessary if you want to learn how to create incredible culinary composition at home. A wide range of data components for decoration suitable for pies, cakes and other desserts. We offer only high quality, food dyes. Today sell many analogues of this product, but quality food coloring to buy the online store - is the choice of professional and amateur cooking
.
How to prepare the mixture for coloring food?
The gel dye is able to give the brightness of the dish despite the fact that it does not need to be added in large quantities. Given the rich texture of the product, for the preparation of 100 grams of mastic you need just 2 drops of ink. Due to manufacturing and environmental repetitive structure, food dyes gel create different shades of mastic, which can be achieved by mixing different tubes each other. Gel food coloring to buy in Ukraine in our online shop to easily place your order online for a few minutes.
The importance of the role of food coloring their types and forms
It is believed that the main feature of confectionery products is their excellent and unique taste, but what he had not been canceled, the buyer will not be able to feel it through the shop window. That is why the creation of the majority of confectionery equal attention should be paid to their appearance, and the first color, and here without good food dyes nowhere. They are created on different bases, and may have a variety of texture.
On the origin of dyes are:
natural;
artificial.
The consistency of this can be:
powders;
Confectionery gels;
fluid.
Gel paint can be with or without sparkles, water-soluble or fat-soluble.
Gel dyes and their benefits
Anyone who is looking for where the food coloring to buy in Ukraine at the best prices, you should know that by nature gelled confectionery dyes are close to the liquid, for the only difference being that they have a more dense, thick consistency, which allows their use very economical. Due to this, gel dyes are excellent for this in order to impart the desired coloration creams, paste, jelly, mousse and others.
It should be noted that the confectionery gel is very economical and only 1-2 grams of it will be able to paint a kilo of icing or mastic. In addition, he firmly holds the original color does not change its color after dyeing, and does not affect the taste of the final product and it does not change.
Some gel dyes manufactured based on glycerol, but because this type is ideally suited for use in ready-made product (mastics, marzipan) and staining test or a cream. However, for the same reasons (the presence of glycerol, glucose) for use in rice protein or substances, some food coloring gel are not suitable, because most likely they just settle. Additionally, for staining of protein cream need to add significantly more ink than for oil-based cream. In our shop are several options how to dye content of glycerol and free.
In shops and on the Internet to buy a gel dye possible:
As a rule, these jars or tubes contain 20-25 grams of coloring gel stain and allow a huge amount of confectionery. In our store you can always gel food coloring to buy at the best prices and a wide assortment of own production.
---
---