Colors for chocolate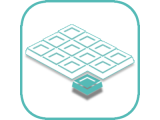 Working with chocolate - a special kind of creativity. The most popular sweet product allows confectioners create extraordinary products, and give it a variety of shades to help special food colors.
If you use poor quality or incorrect colors, chocolate may be irretrievably damaged. Therefore, the approach to this issue wisely.
Dyes based on cocoa butter are ideal for coloring chocolate or oily cream. The structure and the smell does not change, but the color is uniform and bright. Water and fat have different densities, so do not mix, and water-based dyes are not suitable for such a color.
How to use dyes for chocolate?
Dyes for chocolate can not give the bright color of dark chocolate. But you can make it a color picture. To this melt contents of the paint can in the microwave (may be placed in warm water). Shake the jar and apply a thin layer pattern on the inside of the molds. Then pour the melted chocolate. Food colorings for chocolate may also be applied directly to the surface of the article. If the chocolate is melted the bad and fashioned a lump, the paint will make the necessary fluid consistency.
As for the coloring of fatty creams, the dye is oil-based - an ideal option. Paint on the water is very difficult to intervene and oil - stain immediately
. A few tips for colorant for chocolate:
before work, make sure that all the dry devices;
Use no more than 5g of dye at 500g chocolate;
buy only good quality chocolate.
Sweets made of colored chocolates decorated with colorful designs or make a strong impression on buyers. Special dyes to buy chocolate can easily and quickly through our online store. Does your creative idea can be brought to life! Make an order on our site - it's all you need to do
.
There are no products to list in this category.