Shimmer edible color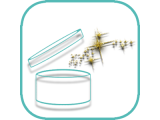 Food paint with glitter effect
At our site you will find everything for pastry. Shop Online Confisuer provides you a large selection of dyes with glitter, more than 20 colors.
Brilliant dyes create a magical shimmer, ennoble your creation. From them it would be impossible to look away!
Our product range includes a variety of brilliant dyes:
The dry dye
Paints for airbrush
The food gel
There are many options. It only remains to choose the most suitable for you.
If you need a dye which is resistant to high temperatures and pH of, the perfect solution - dry food coloring, such as Madame Kandurin. Buy Madame Kandurin can not fear that the dye is harmful to health. Shiny dye made of natural silicate and harmless food pigments. The cream was not added, and applied to the surface of chocolate, mastic, icing, marzipan.

A particular charm have cakes, decorated with an airbrush. This is a handy tool to evenly apply the paint, to create smooth transitions. For him, there is a special paint for airbrushing. Paint for airbrushing is better to buy it, as undissolved crystals may clog the outlet airbrush.

Dry food dyes are sold as a powder. Perfectly suited for spraying. Cakes or pastries, studded with small sequins, will shine and sparkle. Food dye powder can be diluted in boiled water, vodka or alcohol, giving it a liquid form.

A food gel has a special pearlescent. It's easy to draw a picture on the cake, using a simple brush. Such a paint can emphasize fine detail, enhancing the glamor decor - buy food gel
.
Make your order through our online store and we will deliver the goods to any place in Ukraine and even abroad. For Pastry Shop - We have only the best quality and reasonable prices
!
---
---