Food pens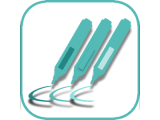 Food pen - an indispensable tool pastry
I'm sure many remember the bright childhood memories associated with Easter. Someone still loves to gather with family, children and paint Easter eggs. Previously, our grandmothers was only one method of coloring - onion peel. But modern women use special markers food.
A handy tool nutritional markers is not only suitable for coloring eggs but also for many other things: baking, desserts, cookies with frosting
. Imagine that your cake is decorated with elegant real picture. With food pen can turn the product surface in the web to display your personality. Create such delicate items such as leaves, leaves, small figures, you will only have to painting a very thin line. Markers help you with this.
Not only can you buy food markers, but also special food handle. They are designed for painting on cakes, mastic, pastillage, chocolate and wafer paper.
Birthday cake can be made unique by writing on it, for example, a pleasant greeting. You can make an inscription with cream or icing, but particularly difficult and unusual fonts easier to create a marker.
Thus, specific markers are:
comfortable;
non-toxic;
are designed for hard pastries and eggs;
make a smooth and fine lines.
At our site you will find everything for pastry. Online shop has a wide range of confectionery equipment. High quality and fast delivery, we guarantee!
---
---
Showing 1 to 6 of 6 (1 Pages)