Edible paint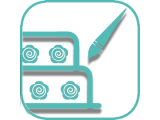 Confectionery art is closely intertwined with the work of the artist. Special paint for painting on confectionery will make you feel not just a pastry chef, but a real creator.
Food dye mastic brand Confiseur - one of the few on the market. Our company has many years of supplying and producing confectionery food dyes and equipment of the highest quality.
Contains only harmless ingredients such as water, sugar, high-quality food pigments, citric acid, and a stabilizer.
before use, you must gently stir the dye brush.
With the help of food coloring can be convenient to create drawings and inscriptions on:
marzipan, baking, chocolate, icing, mastic, glazes.
How to use:
Imagine that this paint - gouache usual. Food coloring for cakes easily applied to a conventional brush, buy you will also be able on our website. If you want to paint a large area, use a natural sponge.
A small amount of the dye (about 5 g) would be enough to staining from 1 kg of sweet mass. Dyes are also perfectly combined with each other, so you can create a completely different color shades!
Food coloring which can be bought cheaply through our website, has a diverse palette of colors. Our shop confectionery equipment ensures only the highest quality of our products. We will deliver the colors or other items in any convenient for you place in Ukraine.
---
---
Showing 1 to 15 of 15 (1 Pages)