Kit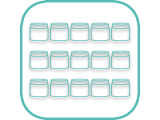 Sets of food colors
Food dye has significantly expanded opportunities confectioners. You can use it to attach to paint sweet masses, give them an unusual appearance, experiment with colors. Remember how in school in the classroom drawing used in watercolor or gouache. Special paint can be drawn on the cakes and pastries as well as we have done in childhood. Often, even professional artists throw webs, knowing that in the confectionery arts no less opportunities for creativity.

In our online store where you can buy high-quality confectionary equipment, a wide range of food dyes. Presented palette allows to carry out any idea. Dyes are absolutely harmless, designed specifically for food.
Why buy a set?
it's convenient
beneficial
farsighted
Buy a set of dyes better decisions than buying them separately. Each set contains 5 or 8 jars 20 grams. That's enough for many applications. In addition, buying a kit, you save up to 40% of their funds!
Using food coloring
The use of color is very diverse. They can be painted marzipan, sugar paste modeling paste, glaze, flower paste, dough, and pastries icing. It is very convenient to use such dyes for decorating eggs. Ideal for drawing. The more dye you add weight, the richer it becomes. Set of paints, oil-based is designed to work with chocolate. With their help you can give a bright color white chocolate or dark paint.

Set food dyes you can buy without much effort and cost on our website to be stored in a dark, cool and dry place. We guarantee high product quality and prompt delivery of Ukraine.
---
---
Showing 1 to 6 of 6 (1 Pages)