Tools, cutting, molds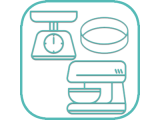 There are talented people who are able to draw a picture on the cake with the help of brushes and special edible inks. And what about those who can not so well to draw, but also wants his pastries looked interesting? These people buy confectionery tools that allow them to more than offset the lack of innate talent. There is nothing to be ashamed of - even the famous confectioners use Molds for mastic and other special items. But what exactly constitutes "pastry tools"? Let's see.
What are the pastry tools?
To get started is to allocate a large enough group, which includes all pastry bags. Their main characteristics are shown below:
Volume. They may be of different sizes, depending on the amount of work that you want to perform. If you can afford to get distracted from time to time to fill the bag again, then you may well do little model. The same can be said if you do not have enough experience with the large pastry bag.
Material. From it will depend on how many times you can use a pastry bag. Buy disposable packages or choose the fabric, the more expensive and durable - you decide. Focus on the frequency of use of confectionery bags. If you use them every couple of months, it is easier to buy a small set of paper, with more frequent use - Choose reusable bags
.
Pastry tips - the next big group of goods. Perhaps it is even more varied first, because the diversity of patterns and figures on cakes is created using a huge arsenal of different attachments. Beginners should not get involved - to select some of the most standard tips, practice, and only after you learn how to handle them, choose something not as common
.
Stencils for cakes - in case you urgently need to make an interesting picture, and display fine lines do not have the time or inclination. Available as the icing stencils with conventional individual patterns from which to make the whole composition, and images by which to move at a time to issue a cake. Stencil of such magnitude, of course, will cost more, but will take time to implement much less.
Tools for working with mastic - another vast group. Cutting for putty, different forms - all this allows you to create really unusual patterns and shapes
.
These and other confectionery tools you can buy right now. No matter what it will be used for registration: paste form which are produced in a wide range, or a cream, for which only a simple pastry bag - we can find all
.