Cutter, cutting, patchwork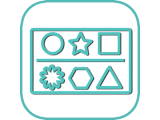 It's hard to argue with the fact that the confectionary masterpiece is possible only when there are two factors: talent confectioner and pastry quality inventory. In our online - shop presented a mega assortment of specialized products for confectioners and bakers. If you are a professional pastry chef, or just like to pamper their loved snacks in the store directory, everyone can find something for themselves. Also, in our store you can buy a plug for mastic, with which you can create a variety of three-dimensional patterns of mastic, chocolate and various creams.
Confectionery supplies from "A" to "Z»
The range of shops is constantly growing and is updated daily, and today has more than a thousand items nomenclature. Here you can find the most diverse equipment not only for confectionery products, but also to create edible decorations: boating, patchwork, stencils and plungers
.
The most popular are stencils for cakes, which allow to create a wide variety of decorations. Stencils can be used with dry (cocoa, icing sugar, powders, colorants, seasonings) and wet (cream, sour cream, chocolate, etc.) Materials. Such stencils can be of various types - from stencil letters and numbers and ending with geometric patterns and ornaments of varying degrees of complexity
.
Also here you can find stencils for icing, thanks to which it is possible to create three-dimensional decorations in the form of various objects, patterns, geometric shapes, and so on. Such stencils allow you to create an interesting composition on any subject in the confectionery.
Businesses pay special attention to the patchwork. Such blanks can create on cakes complex and voluminous construction of mastic, creams and other ingredients, but work with them is rather complicated and requires a certain skill. Often used with a patchwork cutters - special devices that allow you to cut on mastic patterns of any complexity and form
.
What we offer our clients?
Large range of environmentally friendly and non-toxic confectionery equipment: decoration stencils cakes, pastry bags, trays, stamps, and more
.
Affordable pricing.
High quality confectionery equipment.
Convenient payment methods and shipping.