Ruffles, lace, alphabet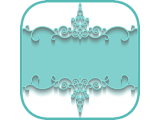 Each confectioner living artist who dreams to realize their most vivid fantasies to life. But instead of the canvas in his painting of the mastic, instead of colors - chocolate and icing. At our site you will find everything for pastry. Any instruments, tools, necessary ingredients to create amazing sweet creations.
One of the most popular at the moment confectionery - cake, decorated with mastic. With the help of special forms of logging, you can make any items for decorating goodies. Forms for mastic (or other materials, for example, marzipan) is easy to cut neat and smooth shape.
In this section the cutting dough allows to make:
Embroidery
Alphabet
Figures
Lace flowers, heart, etc.
Jabot
Patches
Deforestation mastic help turn a simple cake into a work of art. All tins biscuits and cakes made of high quality material (food grade plastic or stainless steel), intended for contact with food.
birthday cake in honor of the birthday - the traditional rite. Cakes with inscriptions in high demand. After all, a treat to be memorable, if done in his name. Here useful form of the alphabet. They can be used to decorate cakes with the words "Happy Birthday". Form number will indicate the age of the birthday child.
Fine lace flowers and hearts, elegant, sweet frill on your cake will not leave anyone indifferent. You can also create embroidery from mastic to surprise family or customers.
Buy cutting for putty easily through our online store at the lowest prices. The site Confiseur you will find only the best quality product that will be delivered to any convenient for you place in Ukraine and even abroad. Do not be afraid to experiment! And we will help you improve your skills with the help of professional confectionery tools.
---
---
Showing 1 to 8 of 8 (1 Pages)