Cutting for flowers / petals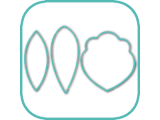 Deforestation for flowers and petals
Confectionery skill can show not only an experienced chef of a popular restaurant, but also ordinary housewife. By the time the guests want to make a beautiful cake or unusual cupcakes. And if a recipe can be easily found on the Internet, the decorations will have to create their own hands. After dessert should please not only gustatory qualities. Nice on the plate in front of him to see a beautifully designed piece of baking.
How to decorate a cake with the help of cutting flowers for?
To put an original floral designs you'll need:
Mastic;
Marzipan;
Cutting flower or leaf.
The pattern you can choose to suit every taste and mood. Internet shop offers a huge range of flowers and leaves of all kinds. For example, you create a pattern of delicate roses or lilies. colors blanking of mastic will help create a themed cake or cake. It can turn the autumn composition by using yellow, red and orange maple leaf with mastic. Japanese theme will be reflected in the dessert using cutting cherry and Japanese maple leaf. Portray the Russian field helps poppy red and juicy green leaves. A convey tenderness and trepidation spring snowdrop can touching.
Cutting flower of mastic will help to build your confectionery business. From you only need good recipes and cooking skills. A decoration will take the online store. This is where you can always pick up the logging for these colors that can not be created manually. After all, what looks beautiful your work, the more clients and admirers will appear in your business. Do not limit your imagination commonplace ornaments, show the full force of his skill with cutting flower.
---
---
Showing 1 to 13 of 13 (1 Pages)