Cutters pastry, mastics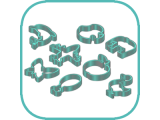 Deforestation gingerbread
Delicious homemade cakes - a pleasant childhood memories, favorite cozy house, my mother's hands, care and warmth. Each hostess will always be true in a couple of recipes from the arsenal of the test, which is literally transferred from the older generation to the younger, like any family secrets, values ​​and traditions. If you decide to make a cake, you will surely need and figures, and to do that you need to buy for cutting mastic and cake will be unimaginably beautiful.
Cook with pleasure! And for this we come to the aid of - you help out our cutting biscuit
. Note that today almost everyone, especially children, pay attention not only to the taste of the finished product, but also its aesthetic appearance. This causes many mothers think about how to feed the crumbs delicious and healthy product, thus bringing him joy and positive emotions.
We are ready to help and offer you to buy cookie cutters of different templates that can cause genuine delight for all family members and guests. With them, your pastry masterpieces are not only tasty, but will be even more beautiful and original design.
cookie cutters - to make choices and fantasize
!
What could be better favorite treat in the form of fish, locomotive, bunny, mushrooms, and other cute characters. Such forms for cookies can be bought easily and at the same time they will help you to attach your children to cook together with you, to show their creative inclinations, to choose their own figurines, ornaments for powders and a whole dream, helping you in the kitchen. The product should be not only delicious, but also beautiful, so you can use the device as a formochka or cutting, they will make the extrusion process easy.
Also you can buy a form for the cookies and pastries prepared for the holiday. The best cakes are obtained thanks to a very not tricky instrument, namely - it molds to the mastic. This can be not only a children's celebration, but also a professional romantic date or the anniversary. Our excavation permit goodies do not get lost on the table, where an abundance of products can be quite varied.
Deforestation mastic - a quality
Search by such phrases as: formochka online store to buy, to help you quickly find our website and choose different cutting metal, used for baking and processing of marzipan or mastic. This product is made of high-quality food steel, so has a number of benefits and advantages against the background of their plastic counterparts. The pledge of quality and beautiful cake - it molds to the mastic that will make your cake does not look like other, normal. Metal molds for cakes, cookies, or other products purchased from us will be:
• & nbsp; & nbsp; & Nbsp; durable
• & nbsp; & nbsp; & Nbsp; for health security
• & nbsp; & nbsp; & Nbsp; easy-care
Cutting mastic are varied templates that will help you realize a culinary idea. These products have won for themselves the location due to the ease of use and ease of use. Confectionery recess need to buy in order to make it convenient to cook biscuits, cakes and other delicious baked goods. And if you suddenly do not know where to buy metal figures for the test, then our online shop easily will help in this.
Cutting for putty purchase is very simple in Ukraine, it should only apply to our store. Here you will find exactly those tins of mastic, which are ideal for your culinary masterpieces. Cook quickly and easily with us!
---
---