Cutting sets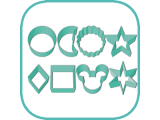 Buy a set of logging - on our website you can buy cutting down not only one, but in convenient kits. In this section are presented as plastic and metal tools. Molds for cookies in the kits will save you time and money.
Why kits felling?
Even the most professional pastry chef will not always turn out the perfect shape of the dough or putty. Carving figures manually, you will not achieve perfect symmetry. Cutting solve this problem. Use them very easily, enough to attach the tool to roll the dough or mastic and press slightly.
What Noboru cuttings can buy in our store?
Set of plastic cuttings are designed to work with mastic or marzipan. With their help made beautiful decorative elements for cakes or pastries, refined floral arrangements. Food grade plastic harmless, intended for contact with food.
Metal cookie cutters are made of stainless steel. High-quality material is used for a long time, it does not break and is easy to clean. These tools are used to work with the dough, but is also used to decorate the bottom and side of the cake. They help hide the flaws in the appropriate places, or mastic transitions. Steel is harmless for both children and adults.
With these robust tools to create original confectionery sweets easier than you think.
What is the advantage of a set of logging?
Set logging cheaper than either form individually
are picked up original songs, do not have to spend time searching for the right form
In some sets there are not only cutting, but also other essential parts of the composition (eg, molds and wood base for sweet eating)
Buy a set of cuttings for mastic or test easily through our online shop confectionery equipment with fast delivery in Ukraine or abroad. We guarantee high quality of goods. You can also purchase any other confectionery equipment from proven manufacturers in Confiseur website.
---
---