Plungers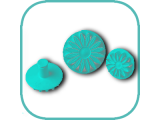 Decorating confection - is an art, which today can master each. In our online store you can buy a plunger for mastic. These simple tools will allow to make beautiful and original figurines for cake decorations, cake or cookies. They are easy to use and provide ample opportunities for decorating any confection.
The plungers pastry made from high quality durable plastic. They consist of cutting and a special pen pusher. They can be:
A simple, ie, produced with the help of their elements will be completely smooth.
From the pattern, allowing you to get a realistic flowers and leaves.
What the plunger choose?
Our catalog presents the plungers and cutting for putty in a wide range. You can always choose the option that suits for:
form;
size;
the number of the included elements.
This tool can be used when working with:
How to use a plunger?
To get the desired shape you need:
Razomnut and thinly roll out the paste.
Sprinkle the table grease starch or vegetable oil.
While holding the plunger Confectionery mastic on the surface, cut the part and raise the plunger.
Remove any excess putty from the edges.
Setting plunger inside the workpiece to the surface pressure on the spring for drawing.
Raising the plunger, push down on the spring to make the cut element.
Put to the form for drying.
Decorate confection.
Turning to our online store, you can buy plungers for mastic: Ukraine - the geography of our deliveries. We are ready to send your order in any Ukrainian city, after agreeing with you the important details.
---
---