Cutters with ejector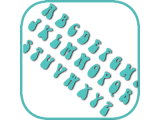 Deforestation with ejector: what is the benefit
?
Deforestation is a special form, allows you to cut a variety of figurines made of putty, marzipan or test. Device helps to achieve perfect symmetry and smooth edges.
But in the manufacture of figures from the mastic is often a problem: it sticks and stuck in the cutting. If the major elements still can be pushed by hand, small - it is difficult and time consuming. Cutting ejector have pluzher that makes it easy to remove the paste from the tool.
Felling of Windsor Clikstix
This section presents cutting-known manufacturer Windsor. They have a kind of "lines" or planchettes with several similar cutting. It is very convenient, especially if you need to do just a lot of figures (for example, in the form of confetti-sized hearts raznog).
On our website you will find a variety of forms of Windsor Clikstix motifs: circles, stars, boots, etc. Convenient cutting with the alphabet or numbers will quickly produce mastic inscription on the cake.
There are two ways to apply cutting pluzherom with this type:
Thoroughly roll mastic sprinkled board starch or sugar. Cut her band size slightly larger than the cutting. Roll mastic again to a thickness of about 2 mm. Put the form cutters up, put on her mastic. Take a rolling pin and roll the paste, pressing it into the cutting. Making sure that all the elements are cut, remove any excess paste. Push the pluzhery, pushing figures from the form.
Make sure the same strip of mastic as indicated in the first paragraph. Only this time, put the paste on the board, and set on top form incisors down. Taking the tool with both hands, press down to its weight (preferably slightly "to mess" with the cutting of the mastic pinned on the board so that all the elements were cut faster). Remove excess paste, drag your finger on the incisors and extrude figures, pushing pluzher.
Buy cutting & nbsp; with ejector at affordable prices easily through our online store confectionery tools. Place your order and we will deliver the goods at any convenient for you place in Ukraine.
---
---
Showing 1 to 2 of 2 (1 Pages)