Viners for flowers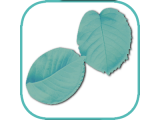 Viners for flowers - bouquets of sweet sophistication
Viners for flowers are an excellent tool for the creation of floral motifs that highlight the splendor of a celebratory cake. Sweet confectionery buds on the cake, as in life, convey the whole range of positive emotions - from a grudging respect to the passionate adoration
.
Modern tools for confectioners allow to realize almost any idea. Viners for flowers to buy a home and can please a lover close delicious pastries, and master professional performing large volumes of orders.
Silicone molds individual petals, leaves or flowers very accurately replicate the texture of natural herbal elements. Reprints of mastic, obtained by the Weiner collected in flower buds and blossoms that look so vividly and naturally, they are easy to take for real.
Although Viners not cheap, purchase them quickly pays for itself, because the time spent on the production of a master flower time is reduced significantly. In addition, simple improvised means unrealistic to portray all the minute details, streaks and surface plants.
The site store are Viners from the best manufacturers for the production of flower details.
Order Viners we - your pastry creations will astound
!
---
---
Showing 1 to 3 of 3 (1 Pages)