Icing mats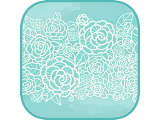 Mats icing
Modern pastry pleasant pleasing to the eye a variety of jewelry, which they are located. Many bakers are trying to come up with something special, is to please customers, and these new figures and patterns inventing new devices, one of which - a silicone pad for icing
.
Where are the icing pads?
When you first hear that word, it's all right - many bakers call this way of decorating confectionery "royal icing." The name may seem a bit pretentious, but those cakes, which are decorated in such a way that looks very majestic. That is why buy a rug for icing costs in the event that you often have to work with the "front" pastries, such as cakes for a wedding or other important holidays.
What you need to know?
Some may find that the mats for flexible icing can be purchased only by professional confectioners, but this is not the case. They are very easy to use, in addition, they can be used to create a really beautiful things. To buy silicone mat for flexible icing, not necessarily understand all the details of the confectionery business. You just need to understand what you want to do is to choose the best design. The main thing - is the appearance of the resulting lace, the other parameters, as a rule, are not very different, which is why they simply lowered for insignificant. Sometimes, however, should look at the material from which made the carpet. If you are still wondering what to look out, here's a short list:
Country of origin
Material. The high-quality material, the longer you will last the rug
Pattern
Function (have mats, borders, and there are those that allow you to make a single flower or snowflake)
Price. Some icing pads are expensive - is not the best option if you are going to use them quite rarely
.
Learn the theoretical basis
Before silicone mats for icing to buy, should read a few instructions related to icing and the algorithm, which produces the perfect mix for the job. Without a theoretical framework, you will be quite difficult to understand whether the correct consistency in the glaze, and how best to pour it on the mat to lace turned uniform.
---
---
Showing 1 to 2 of 2 (1 Pages)