Rolling pins, mats, modeling tool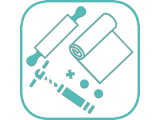 Mastic is an edible paste, which has become a real boon for confectioners. Another favorite product masters - marzipan (weight of almond flour and sugar syrup ). With their help it is possible to realize any idea, to create original compositions. From these sugary mixtures can be made autonomous or treats a variety of decorations or figures of confectionery. Their main advantage - excellent taste and high ductility
.
Like any sculptor need a special hammer, and artist - a brush and confectioner necessary tools for working with mastic or marzipan. On our site you will find everything you need to create wonderful sweet creations.
Tools for mastic in this section provides the following types:
hair iron mastic
Angled Tweezers
Click Wheel for joints
Carnation flower
Modeling sticks with different tips
Spatula for smoothing
Mini Paletta ​​li>
The toothed forceps
Drawing instruments
Many of the devices are sold in small sets. Any operation with the mastic or marzipan via modeling tools can be produced in a matter of minutes or even seconds. Confectionery tools for high quality mastic greatly simplifies the process of decorating cakes and other products. They allow you to "revive" the ingredients, is producing masterpieces of confectionary art.
High-quality tools make it possible to do the job faster and more accurately. In this section you will find the most essential and commonly used tools. Are you ready to order, for a family or own pleasure - it does not matter. They are suitable for beginners and masters of the confectionery art.
Buy Tools for mastic can be at the lowest prices through our online shop Confiseur. Do not be afraid to experiment, develop his craft. All the necessary products that you order through our website will be quickly delivered to any place in Ukraine or abroad.