Rolling pin, textured rolling pin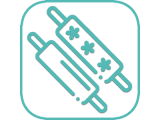 Skalka - an essential kitchen tool. The confectionery business is rolling pin can be used for rolling dough, paste, marzipan.
In our assortment you will find a variety of rolling pins buy from trusted manufacturers, which will last a long time and be loyal assistants in the creation of exclusive products.
Buy a rolling pin dough, mastic and other materials - will allow you to enjoy the work, to make it simple and enjoyable. Every confectioner knows that the hand should always have several different Rolling Pin, each of which has its own purpose.
Rolling Pins smooth not cling
Skalka mastic is made of food grade plastic, has a flat and smooth surface to which nothing stick. Buy a rolling pin to makstiki - rounded edges are used for thinning the edges of leaves and petals. Such a rolling pin you will find on our website with different diameters. Also rolling pin mastic is useful for transferring the rolled cake sugar on a weight or other product, easy to work with the dough or marzipan.
Whatever you want done, rolling pin, which is easy to buy at a low price through our online store will help accomplish this.
Pointed rolling pin
Rolling Pins, with pointed tip, ideal for making flowers and frills. Easy to work with thin and delicate details.
Pointed rolling pin is used as a standard rolling pin to roll out the dough, but in the creation of the color of mastic rolling pin irreplaceable. Circular part can be smooth weight for the petals, and the other - to align the center of the bud
. Food grade plastic does not react with food, is a long time.
Skalka texture
Textured rolling pin - easy to use tool for confectionery mastic or marzipan, covered with interesting pattern. Due to the large size of a rolling pin leaves no residue from the edges on mastic and creates a great figure.
Confectionery tools represented by two species:
Such a rolling pin kills two birds with one stone: exactly unrolls mass and creates an unusual spectacular figure. Pattern turns clear and very beautiful.
---
---
Showing 1 to 2 of 2 (1 Pages)