Mats, boards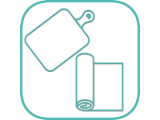 Before you start to work on mastic or marzipan, you must choose the right work surface. But the material is rolled or cut from it the necessary figures on the table just inconvenient sealant can stick, and scratch the table cutting tools do not want to. Especially for confectioners have been created pads mastic, not cling mats and professional pastry board.
Special attention should be paid to this issue when creating sugar flowers. To make the petals, mastic should be easy to give in to pressure and did not explode. Soft mat - this is the most comfortable working surface. Mat modeling simplifies the process of creating color. He is absolutely smooth, paste does not stick to it.
There are special mats with markings in inches (producer - US), allowing roll out the sugar paste or marzipan together. Partitioning allows mass roll out to the desired size with high precision. No need to use any powder or starch. Mastic turns smooth and glossy.
Flexible fresh - mat in our range truly versatile. It has the following advantages:
1) is used to prevent drying of the leaves or petals sugar;
2) it can be cut from the mastic different figures using cuttings;
3) The mastic does not stick to the surface and does not slide;
4) very convenient to roll the mastic leaf turns perfectly smooth.
If you often make sugar flowers, you might like board streaked mastic. Professionals know that this small addition greatly facilitates the work.
mat material and confectionery boards intended for contact with food. With their help you can easily perform a tight cake or pastry, sugar create unusual colors and original decorations for confectionery products. Konditerskirskie buy mats and mats - they will provide convenient and fast manufacturing process. Order can be inexpensively through our online store. We will deliver any confectionary equipment of the highest quality anywhere in Ukraine and abroad.
---
---
Showing 1 to 6 of 6 (1 Pages)