Bakeware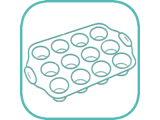 Choosing and buying a baking dish
For those who like baking online store offers a wide range of forms, differing in size, shape and material. Before you buy forms for baking cakes, muffins, pies and other culinary delights, be aware of what material they are made.
Material for forms
Excellent bakeware Ukraine produces ceramics. This superb material is well heated, which makes it possible to evenly propechsya dish. Pottery - an environmentally friendly and safe material. In this dish perfectly cook casseroles, soufflés, biscuits.

A steel baking dish in the oven for a very affordable and easy to use. Before filling in the form of tests, it should be lubricated with oil or butter to the next cake or pie is not burnt. The surface of the product may be a mirror or matte. Forms for a batch of metal with a matte surface less susceptible to mechanical damage. Just bakeware made from aluminum and cast iron.

Have a beautiful appearance form of glass. Dough evenly warms them, and the finished dish retains heat for a long time. In a pot pie or casserole can be served to the table.

The desire to buy silicone bakeware has many mistresses. This is quite deliberate decision. Products can withstand large temperature range, so are suitable for baking and freezing. Molds have non-stick layer. They are easy to clean and store fine. The material is easily rolled, so the form does not take up much space.

Forms for baking cakes have Teflon non-stick layer, allowing not use oil to lubricate the surface. To deal with such products should be very careful not to damage the finish.
If you are interested in split molds for baking, you can buy it in the online store. These forms differ in size. They are very easy to bake cakes for cakes and a variety of pies.
Configure Forms
In the process of creating forms for baking manufacturers take into account the wishes of consumers. Therefore, the size and configuration of the product can be very different. If you want a small baking dish buy, Ukraine provides for you to choose from. In the online store, they are always available. They can be round, rectangular and oval. For children cookies and muffins can bake in the forms as bears, bunnies, Mushroom, Stars. The choice is very big and everyone can find a suitable option. Plug-in baking dish can be: round, square, rectangular, in the form of heart. It is perfect for holiday baking cakes and pies. For Easter cake ideal is detachable form a cylinder.
---
---