Cupcakes, cake pops, makarons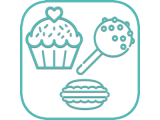 Probably many have dreamed as a child to learn to make their own lollipops in the form of various animals and even fairy tale characters. And what were delicious caramel colored cockerel on a stick! Alas, in those days to get tins of candies were problematic. But now not only the child, but an adult can enjoy unusual candy manufacturer alone.
Why form of candy should we buy
To help you make the right choice, pay attention to our advantages:
First of all, it is a huge range of products that allows you to make a choice for even the most demanding customers;
Ability to choose the form of candy, not only for home use but also for commercial production;
The eco-friendly material of which are manufactured form;
Use stencils at home you will be able to for a long time - with careful handling, they will serve you for many years;
Affordable prices, so that you can pick up the equipment, while saving;
Easy to use inventory - prepare candies everyone can
!
The versatility of this product allows you to make not only a caramel candy, but also chocolate figurines or even a miniature ice cream.
Thanks to the durability of the stencil you can make regular candy forms that do not require special care - just wash them with warm water and dry with a towel
.
Pay attention to the wide range of our products. It is not only possible to pick up an unusual shape, but also to buy sticks of candy. The most successful accessory for the candy are wooden sticks.
In addition, we can buy molds for lollipops are also available there are other useful items:
For makarons: tower, stands, packaging, rugs, mindalnaya flour
.
For cupcakes: boxes, decorations, wrapping, boards, paper capsules
.
For Cake Pops: sticks, sticks, molds, packaging
.
Learn More about the product or negotiate a wholesale purchase, you will be able on our website via feedback or by phone.