All for cupcakes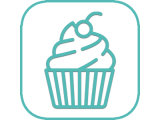 Today, the art of confectionery is growing rapidly, offering more culinary innovations and original solutions. For the holidays it has become fashionable to make cupcakes, which perfectly replace any cakes and desserts banal. These cakes are baked in the form of cakes, but due to the method of preparation are more delicate texture of the dough. Top decorated with cream, icing, whipped cream, nuts, fresh berries.
Mini cakes convenient to prepare:
Wedding
Christening
Children's parties
Graduation in kindergartens and schools
Anniversaries.
Effective supply option and unsurpassed taste qualities allow to fall in love cupcakes after the first acquaintance. These round cakes are very popular with children, who are delighted with the bright and interesting design. Friends and family will be surprised if in the new year, they will receive a beautiful sweets by their own hands, and your loved one on Valentine's Day will be pleased to know that you have worked specially for him.
The benefits of cupcakes:
In order to have a dessert, not necessary cutlery and crockery.
Multi-storey stand for cupcakes in the form of a cake can arrange the table as a BANQUET. It is also possible supply of sweets in front of each guest.
The thematic paper molds and toppers for cupcakes will emphasize a particularly important event in my life.
Such miniature desserts look great, not only when they are many, but when there are only a few pieces.
It looks very appetizing and elegant thanks to the creamy curls and accessories.
Easy to please the guests, preparing several kinds of different recipes.
Use the package for cupcakes sweets turn into bright delicious gift, which looks much more attractive than the banal box of chocolates.
Sweet Business
Eating on the sale of food products are always attractive to investors as bring a stable income. An exception are not and confectionery. But with stiff competition you need to somehow stand out from the crowd, and a great solution to this problem will be baking cupcakes.
In order to diversify the range, can be used not only several kinds of recipes, but also decorations. Suit all kinds of paper molds, toppers and stands cupcakes - Varant simply do not count. By selection of suppliers in such a matter should be approached with great responsibility, because it affects the reputation of the confectionery and baking uniqueness.