Decor for cupcakes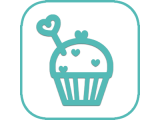 It is difficult today to imagine any event without having sweets. Baking and pastry masterpieces as nothing more pleasing to the eye and bring pleasure not only children but also adults. Any wedding, birthday, corporate or just a friendly meeting is complete without a slice of delicious cake or other sweet goods.
Decorating cupcakes with their hands
A modern set for cupcakes allows any owner to prepare them as well as professional chefs from around the world and to please their loved ones in the most important days or ordinary weeknights. & Nbsp;
By their appearance they resemble cupcakes, but have a different structure of the test and have a delicate cream hat. This bakery is very compact and tasty, and this won the hearts of many fans of the sweet. Our interent shop assign you an opportunity to see and flags kupittoppery quality with fast delivery, and this in turn affects your chances of baking products. However, she welcomed guest every holiday or a dining table thanks to a very interesting and original variations of jewelry.
The Importance topper for cupcakes
cupcakes Decoration - this is one of the most entertaining activities, because for cupcakes decor may be the most striking and unique. It can include toppers, tags, pictures, colored nozzles. Flags can be:
• & nbsp; & nbsp; & Nbsp; a nursery, where guests names written
. • & nbsp; & nbsp; & Nbsp;. Special Christmas
• & nbsp; & nbsp; & Nbsp; dedicated to the birthday or wedding
. In our online store you can buy any subject toppers and attract the attention of visitors to the sweets at the expense of relevance and beauty. Beautiful toppers buy need for your baking, which will give a more pleasing appearance. It is possible to buy toppers for cupcakes or flags, as the one-way pattern and a double-sided image. Do not lose their attractiveness and skewers to decorate cupcakes.
Confectionery for decorating tips have various patterns and are able to satisfy any needs of the buyer. Patriotic theme, too, does not go out of fashion. Ukraine, its outlines, flags and other symbols of success are applied to all kinds of options for decorating cupcakes.
Make decorations for cupcakes
To make an impression on your family or guests to buy their creations for all cupcakes, ranging from the molds to the most beautiful and interesting ornaments. There are certainly vozmonzho buy boxes and this will be more proper solution. After all, as in any culinary business, here is important, and taste, and shape, and aesthetic appearance.
If you are wondering where to buy decorations for cupcakes or how to decorate - then you exactly us! Here you will find a photo ornament cupcakes and will be able to see the future results visually. Cook with inspiration!
---
---