Wrapper for cupcakes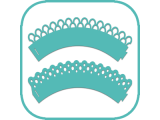 cupcakes - a delicious treat, literally means « cake cup ». Small cake and created as well as a cake. It is based on the standard ingredients: eggs, butter, sugar and flour. Often use a variety of additives: fruits and berries, chocolate, nuts or cheese. Shop Online Confiseur offers you the perfect solution for the design of these sweets.
Packages for decorating cupcakes, cupcakes or muffins today produces for every taste and color. They create a great design for your candy bars, as well as help to make a wonderful sweet gift to a loved one.
Wrap
The original packaging - wrapper for cupcakes or as they say linings for cupcakes, muffins or kapkeyov- presented at our site in a wide range: the different types, colors and motifs. Packaging with hearts perfect for a romantic gift. With snowflakes and snowmen - New Year's holidays. On the «Wedding Day» wedding cupcakes will look perfect in obortochkah labeled or pale white lace decoration for cakes and mafftnov. A kids like sweetness with pirates or comical baby animals.
Such wonderful wrapper for cupcakes made of laminat and design kartona- easy and comfortable material. Fastened paper molds for cupcakes on a convenient clasp, forming the "cup».
We are engaged in the production of lace and printed wraps for several years and are developing their own original designs for any occasion or event.

Packaging for cupcakes is easy to buy, make an order at our site. We guarantee you a high quality product, reasonable prices and fast delivery of Ukraine.
---
---