Paper capsule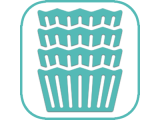 What paper forms for muffins and preimuschestvaBumazhnye capsules for cupcakes are excellent modern packaging material, as well as one of the varieties of disposable tableware. They can also serve as packaging for sweets. The material for the manufacture of a special paper or kalka.Protsess create tartlet occurs in machines and installations, where under the influence of temperature and vacuum formed shape desired. Configuration of preferably round. Order or buy paper tartlets you can always through our & nbsp; site with very fast delivery at the lowest prices. A variety of sizes and decor is simply amazing. You can paper forms for muffins buy any dekorom.Perechislim main advantages that paper tartlets: excellent products retain their shape, can withstand very high temperatures, are easy to use, hygienic, and safe to use paper forms ekologichny.Kak It's very simple?. baking process using them is so simple that it can handle any newcomer or even a child. First, prepare the dough according to any proven recipe. For cakes, cupcakes and muffins, it will respectively raznoe.Dalee need to buy forms for muffins, place them in the form of metal or silicone. Grease is not necessary. They are filled with dough, as usual, and go into the oven. Bake at standard conditions. Even some sweets from which few can resist - it's candy. We recommend buying tartatelki for sweets in Ukraine that will make the manufacturing process more enjoyable and comfortable. This category is represented by the site in order to buy a paper capsule you could with ease and without leaving doma.Gotovy product is simply removed from the mold directly into the capsule paper. Such a time-consuming operation as the washing forms absent altogether. Cupcakes keep their elegant appearance and do not dry out. In this form, it is convenient and hygienic transport. They are removed without problem.Nash Shop recommends forms for tartlets buy excellent quality, from the manufacturer Ukraine. They fully comply with the hygiene requirements of the Ministry of Health and have quality certificate. You definitely will be satisfied with such a purchase.
The fragrant muffins and cupcakes are very popular today. A small treat can be eaten with a cup of coffee in a cafe, a snack or for breakfast they take to the guests.
One of the main reasons of convenience, cupcakes or muffins is that they are often packed in special paper capsules. Buy such packages can be baking, you want to take on the nature or a walk with the children in the park. Besides capsules provide chic decor products. The colorful capsules, they look amazing.
What are the capsule paper?
Paper capsules are intended for cupcakes, cupcakes, candies, muffins and other desserts. Often these molds are called "tarts". In our online store you can buy paper capsules of various motifs, colors and shapes.
What are the advantages of paper tartlets?
Tartlets disposable, so comfortable and practical. There is no need to wash them.
Baking in tins paper hygienic.
Baking does not stick to the tart, it can be easily removed from it, and not deformed.
Pre-lubricated with oil or something else capsule is not necessary.
How to use
Cake Molds paper for convenience are placed in rigid form (metal or silicone). Then it imposed the dough. The capsule is placed in the oven until cooked. No additional procedures are required.
In this section you will find the most interesting and unusual tartlets. You can pick up for every taste and occasion:
New tartlets with bells, snowflakes, reindeer, Christmas trees;
Children capsule paper with funny baby animals tartlets;
paper capsules simple monochrome;
graceful paper capsules into the cell, peas, with patterns;
unusual in a tulip bud paper capsules.
All the Paper cupcakes capsules made of water- and heat-resistant oiled paper. It can withstand even very high temperatures (up to 250 degrees). The material is absolutely harmless, made specifically for food contact.
The paper forms for muffins are easy to buy with delivery to Ukraine through our website, available at the lowest prices. We have only the highest quality goods.
Paper forms for muffins, cupcakes, sweets, desserts, cakes and pastries and Used to & nbsp; additional decor of your products. All forms are made of special paper promaslyanoy which prevents the burning at high temperatures. Approved for contact with food.
---
---