Ingredients, mixes, colors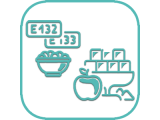 When it comes to the creators of confectionery masterpieces, usually refers to the professionals in the field of confectionery production. It confectioners professionals give the world the joy of a variety of sweet delights. Nevertheless, even without special training, but it has an irrepressible desire a person is able to create amazing form and content items. But, in addition to the desire, he will need professional tools and ingredients.
Our store was created in order to help both professionals and amateurs. First - offering worthy companions in their difficult task, the second - contributed to their creative realization
.
Any Pastry, though professional, even an amateur knows what an important role is played by mastic cake in the process of creating a beautiful and tasty treats. Such a decoration, as a mastic on the cake, you can create unique and beautiful products that, in addition, can be eaten. Buy you can paste in our online store, then create from it amazing works of pastry art.
Also, here you can buy food dyes, by means of which are incredibly attractive products, pleasing to the eye with its brightness.
Confiseur offers its customers a wide range of different accessories to create a festive mood. Among others, I want to highlight such as chocolate fountain, capable to decorate absolutely any table at the ceremony. A wafer images and almond flour will help to create pastries which will waft its customers gentle notes of melodies and create an aura of lightness and airiness around them. If you need to buy cocoa butter, the online store will help you to do this. To create a unique in appearance and taste of the delicacies you can use components such as agar agar, which also can buy in the online store, ensure that you receive the highest quality and the ability to choose from a wide range. We can buy and glycerin, then using it to create a unique and delicious confectionery.
Choose, try, experiment - the world of confectionary art unlimited
!